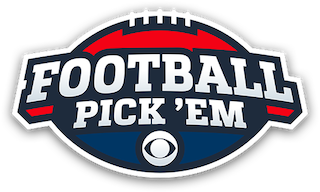 During my time as the Head of Design at CBS Fantasy Sports I saw an opportunity to invigorate our digital products by creating a brand new NFL Pick'em product. I saw that it would fill a huge void in the market and showcase our companies' strengths– namely, our betting odds experts. I sought to do all of this while simultaneously tying in major sponsorship opportunities and areas of desired growth in the company. The most important of which was SportsLine. A top of the line gambling odds site, that provides users with top-notch betting odds through simulations and sports experts.
The result of this initiative was a 2 million dollar increase in ad conversions within 3 months of launch. 30K new SportsLine subscriber resulted from this games launch after those. These ad conversions helped propel CBS Sports to the forefront of sports experts and odds makers.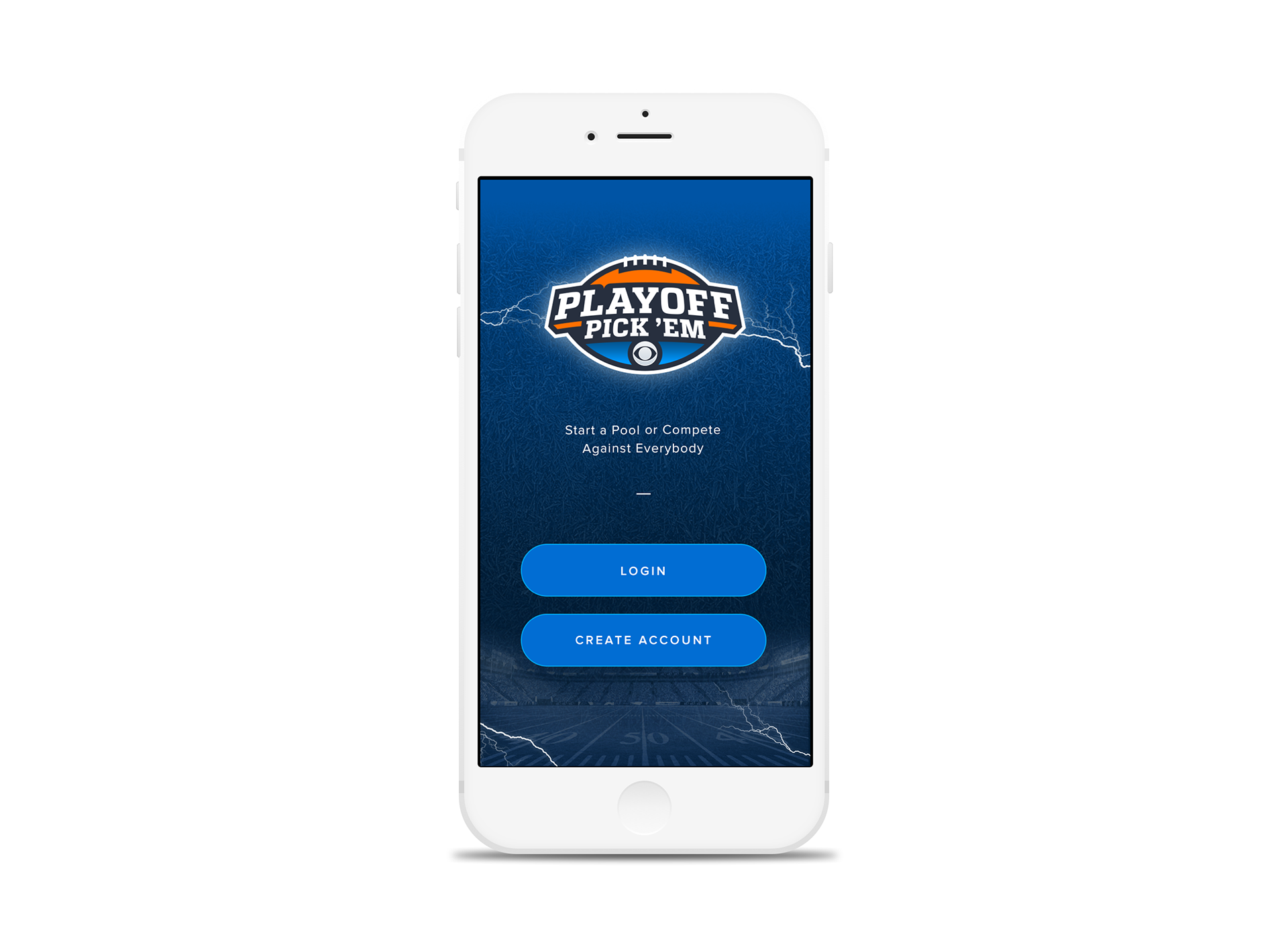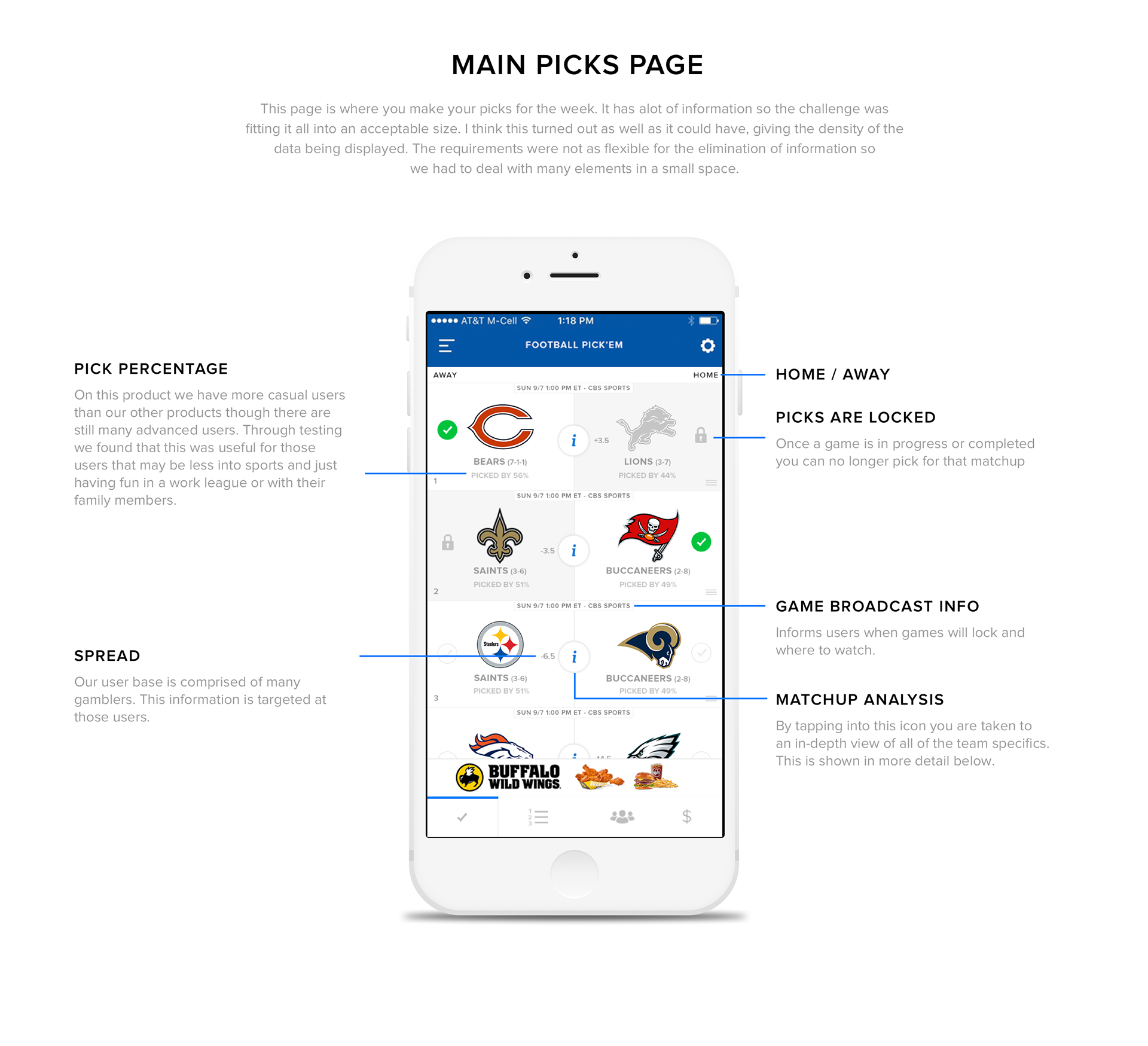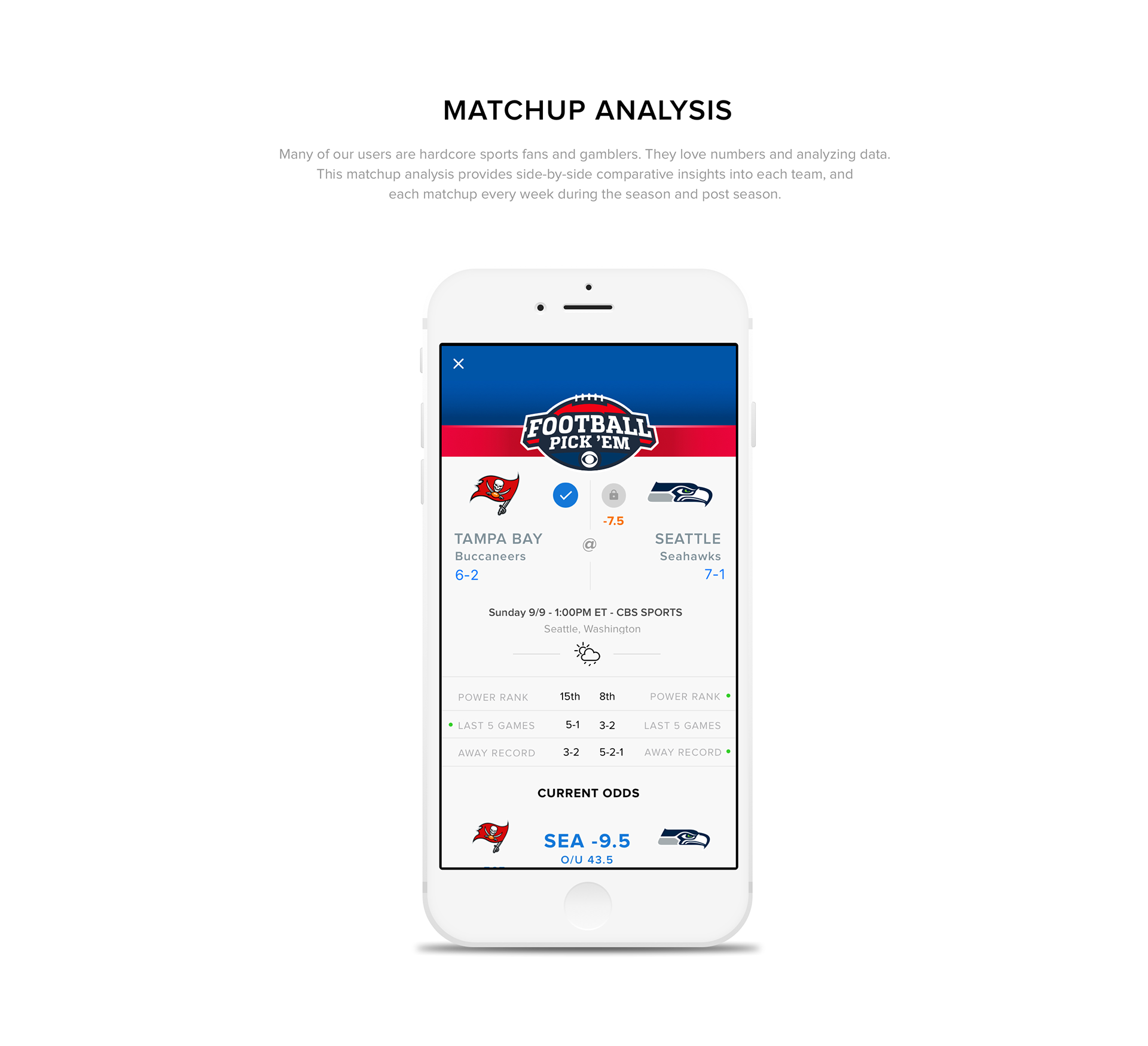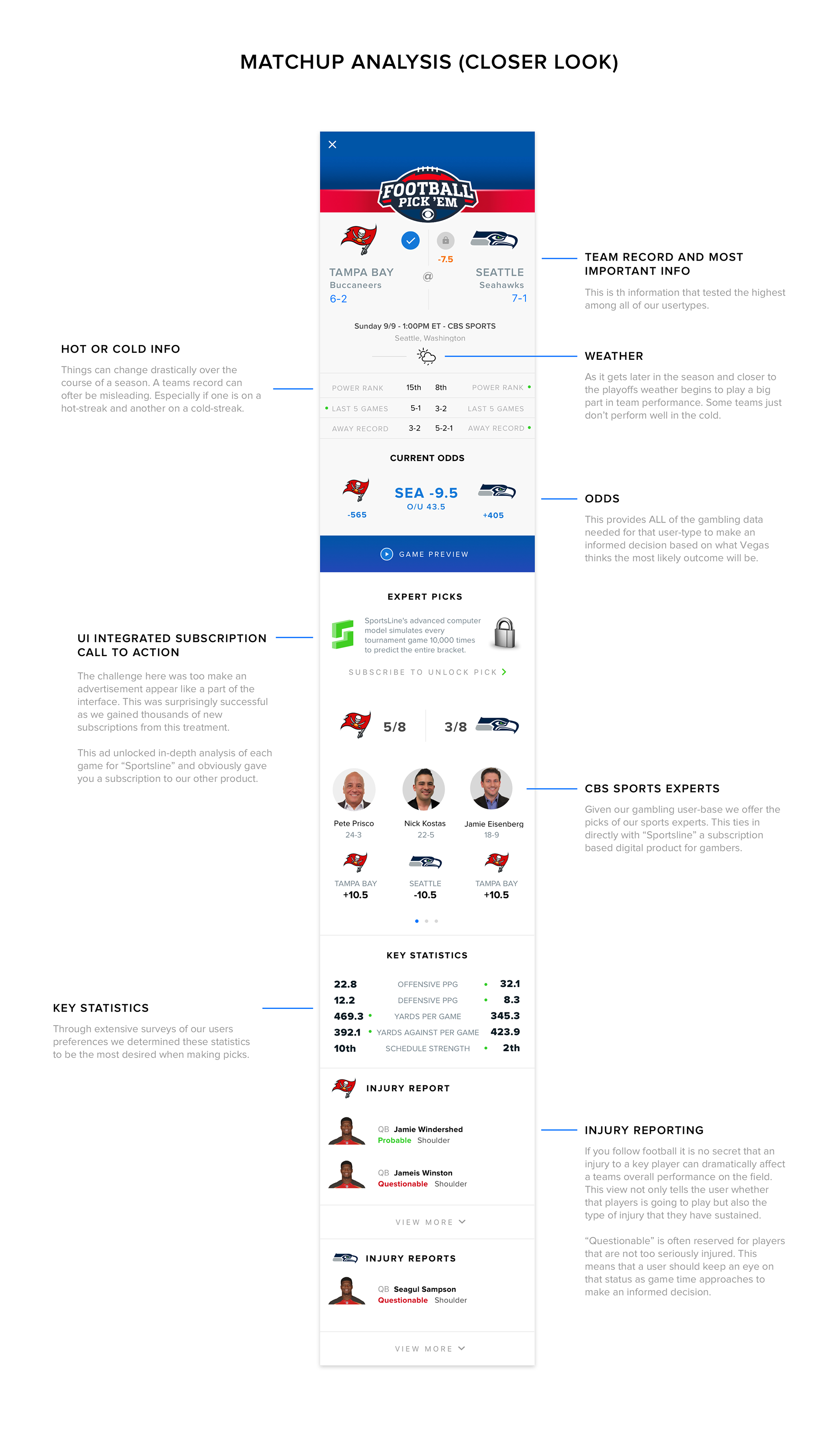 Onboarding Flow and Wires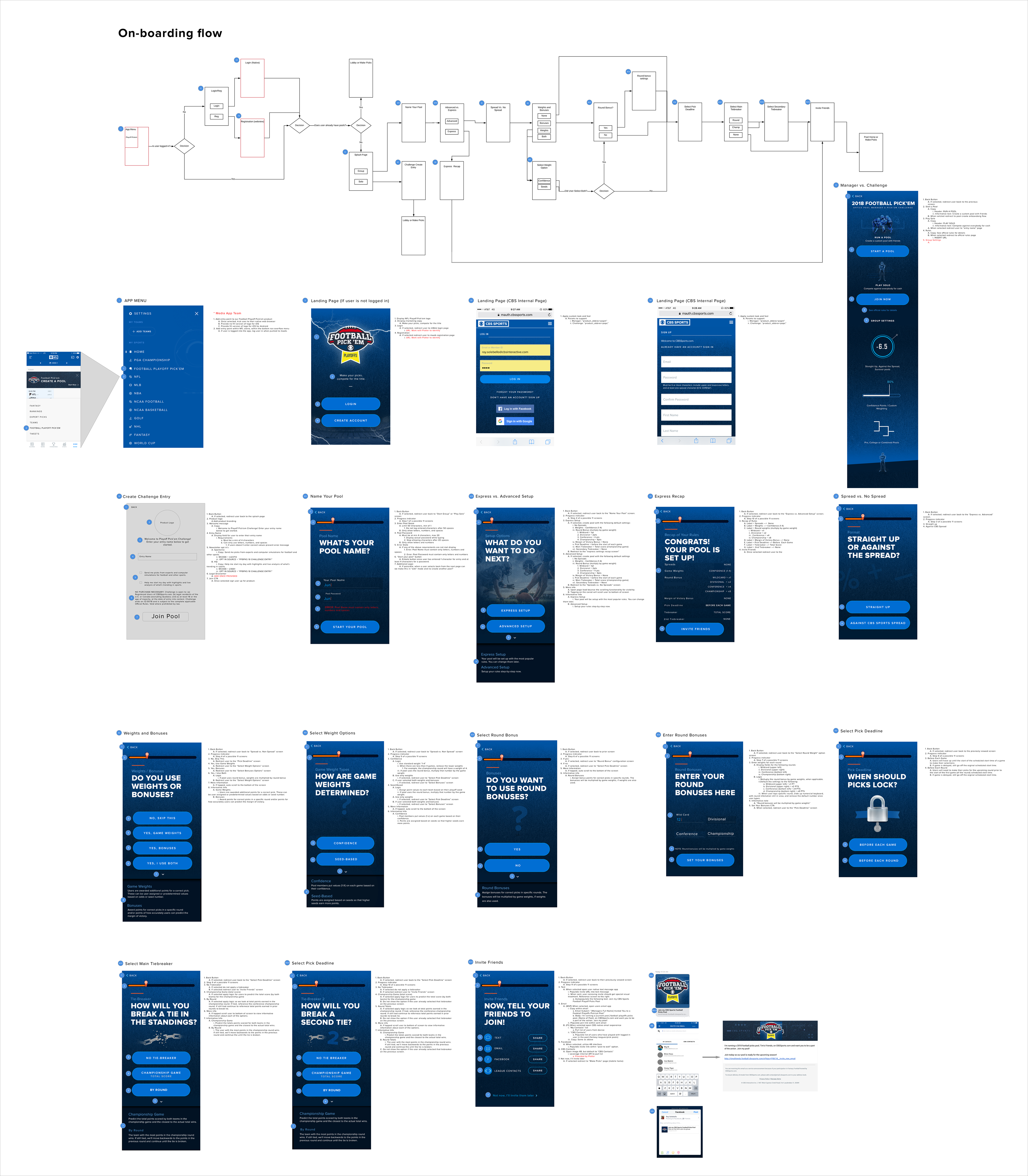 Project background and strategy
While many designers focus on the aesthetics, business objectives and creating the best user experience, I approach things much differently. Simply stated, what separates me from others is my ability to solve complex executive-level problems and create market opportunities for companies by utilizing design thinking but not by designing. I analyze cultural factors within companies and look at how to fix them or streamline them by using design thinking to "redesign" the corporate culture. Everything comes down to psychology. I would view myself as a corporate Psychologist that utilizes design thinking to reshape the world around me or leave it how it is if it is working well. Don't get me wrong, I do design as well— which you will see below.
During my time as the Head of Design at CBS Fantasy Sports I saw an opportunity to create a brand new Pick'em product that filled a huge void in the market and utilized our companies' strengths– our betting odds experts. I sought to do all of this while simultaneously taking advantage of several major sponsorship opportunities that our sales team had been pursuing for some time, namely Google.
It is important to note that gambling had just been legalized throughout the United States and sports bettors made up a VERY large portion of our target market. I saw an opportunity to seize that portion of the market and set us up as the subject matter experts in sports betting across the United States. So... I began an independent effort to organize buy-in from the rest of the CBS Sports leadership team. 
internal politics & Strategy /
My goal was to spark a cross-company effort to relaunch the game in a brand new way. Doing so required that I unify separate teams which had previously been siloed due to mistrust and mismanagement, which I knew I could mend by bringing in a very reputable 3rd party vendor to do a small but vital portion of the development work. My rational was as follows…
It would cost us a relatively small amount and save us from pulling our own internal teams away from their seasonal focus on baseball. We broke up our quarters at the company based on the 4 major sports. Football, Baseball, Hockey and Basketball. I knew that the development and product teams were already overworked at that moment because of the overlap between football and baseball but would be finishing by the time we needed those teams to assist the 3rd part vendor in integrating into our codebase. 
My proposed strategy would also p
rovided enough of a price tag that leadership would pay active attention to the initiatives— and in particular, the team leads. With all of the eyes on each of the team leads (which were siloed at the time) it would
 eliminate the lack of communication between teams by forcing them to work together and mend archaic and begrudged relationships. 
It would also force our own development teams to clean up our legacy code base which was causing repeated crashing during peak performance days like "Draft Day." 
No one would realized all of this until we were too far in to turn back which eliminated any push-back from the older team members that had been creating the siloed structure for decades. It is important to understand that these team leads also ADAMANTLY opposed any internal revamps of ANYTHING if it involved them having to put in more effort. Most had been at the company a very long time and were set in their ways. No one realize this was how it would play out, but I knew based on my intimate understanding of each team which I routinely went out of my way to sit and meet with. Especially legal. So what was the key to all of this? Because of the technology we were utilizing, there would be no other option but to unify the teams and effectively eliminate all siloing at CBS Sports. I was ultimately able to make all of this happen.
Along with the above, I also saw an opportunity to build this FREE game in a way that we could funnel our existing users into a PAID subscription product which we had just launched called SportsLine. SportsLine is a betting and odds platform that utilizes Ai AND sports experts' data to predict the best bets to place for each game in any sports category. This took a great deal of research and psychological experimentation to achieve but really payed off in the end.
The on-boarding process was cumbersome and not geared to our advanced user base which consisted of betting enthusiasts that required advanced information. But my personal goal was to make the product highly engaging for ALL user types. With that in mind, we sought to streamline our casual users through the setup process while giving the advanced users the option to deep dive into custom settings. Another goal was to update the look and feel of the product and reorganize the data into a more scannable manner. Giving the users the data they wanted relative to their user type. I believe we achieved this beautifully, and it was one of the most successful campaigns ever in converting users into paid subscribers for our other betting platform "SportsLine." 
So what were the results of this initiative that I began?
A 200% increase in subscriptions to SportsLine. The highest in the history of CBS Sports. 
Over 55,000 new accounts on the CBS Sports app. Which led to a custom sponsorship integration with Google Cloud that generated 1.2 Million in revenue in 3 months. On top of all of this I was able to do the actual design work and animations as well.